The Truth Behind True Schedules (of Pipe)
By John Brady
October 2018
When talking about carbon steel pipe and pipe fittings it is often assumed that Schedule 40 and standard weight are the same thing; likewise, that schedule 80 and extra heavy are the same thing.  These assumptions, however, are incorrect and can lead to the wrong material being installed at the jobsite.
Take a look at the wall thicknesses (in blue) on our pipe chart.  Look closely at the two columns for schedule 40 and standard weight.  Up through a 10-inch pipe size the wall thicknesses are the same, and the terms schedule 40 and standard weight are very often used interchangeably.  But once we start dealing with pipe and fitting sizes larger than 10-inch you can see that the wall thicknesses diverge.  The wall thickness of the standard weight pipe plateaus, remaining the same at the 12-inch size, while the wall thickness of the schedule 40 pipe continues to increase with pipe size.  You can see this divergence in the following graph: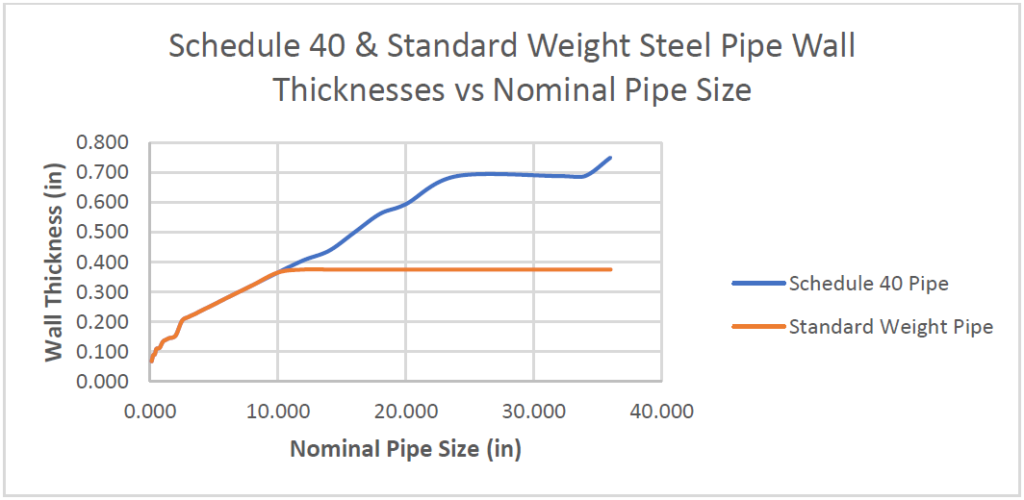 The same is true for schedule 80 and extra heavy pipe and pipe fittings, except that these two diverge at 8-inch sized pipe, where the extra heavy wall thickness remains the same.  This divergence is shown in the below graph: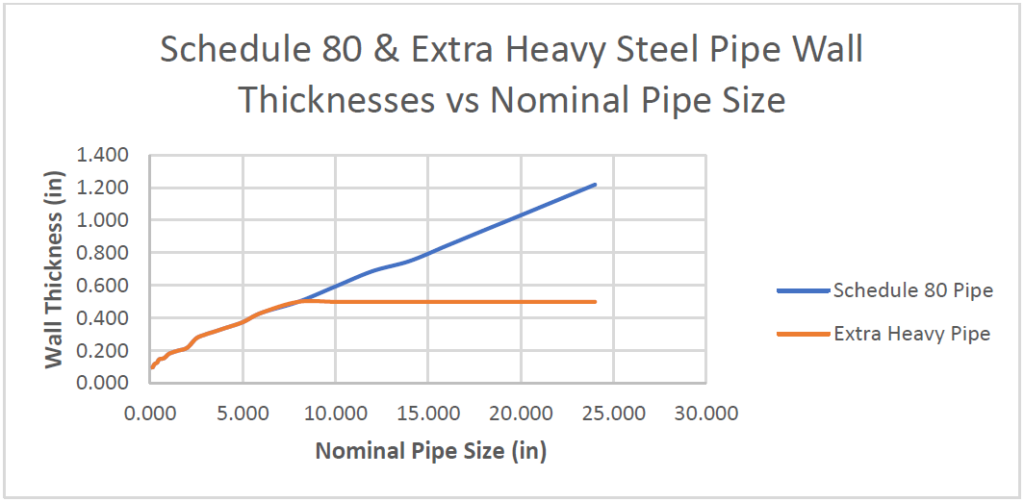 Since schedule 80 and extra heavy share the same wall thickness with smaller pipe and fitting sizes, there is often some confusion when quoting customers on pipe sizes above the point of wall thickness divergence.  Above these points of wall thickness divergence, it is especially important to read customer specifications carefully and clarify as necessary. 
Terms often used when talking about pipe:


ANSI – American National Standards Institute
ASME – American Society of Mechanical Engineers
API – American Petroleum Institute
NPS – Nominal Pipe Size
NPT – National Pipe Thread
OD – Outside Diameter
STD – Standard
XH or XS – Extra Heavy or Extra Strong
XXH or XXS – Double Extra Heavy or double Extra Strong
ASME/ANSI B 36.10 – Welded and Seamless Wrought Steel Pipe
ASME/ANSI B36.19 – Stainless Steel Pipe
Standard of New England, LLC
Standard of New England is an independent wholesale distributor, in operation since 1996. We are small enough to be responsive to our customers' needs and big enough to deliver what our customers want when they want it.  Our specialty is in industrial piping products, but we can also provide much more.  We are proud to have local, national, and international customers who come back to us time and time again because of our industrial knowledge and personal customer service.  
We offer a wide range of products including: Pipe, Valves, Fittings, Flanges, Metal & Fabric Expansion Joints, Industrial Dampers, Rubber Expansion Joints, Metal Flex Connectors, Engineered Plastics, Polypropylene, Fusion Tools, Hardware, Gaskets and More. These products are available in a range of Metals & Materials to meet all your industrial application needs.
Contact us today!  
WHILE OTHERS STRIVE TO BE THE BIGGEST, WE STRIVE TO BE THE BEST – STANDARD OF NEW ENGLAND, LLC™