Obtaining reliable flow control in industrial applications is challenging. One solution to consider is the gate valve. Gate valves control flow with a wedge or disc that lifts in and out of the flow path.  As with any valve, there are pros and cons to its design and use. Reference the following chart and additional information when considering a gate for your process:
Gate Valve
Pros
Gate Valve
Cons

Low-Flow Resistance when Open

Not Good for Throttling or Regulating

Short end-to-end Dimension

Good for Liquids & Slurries

Subject to Excessive Seat & Disk Wear

Height Restrictions to Open/Close

Wide Range of Applications

Weighs more than others valves in similar applications

Easy Proactive Maintenance

Low Torque Needed for Operation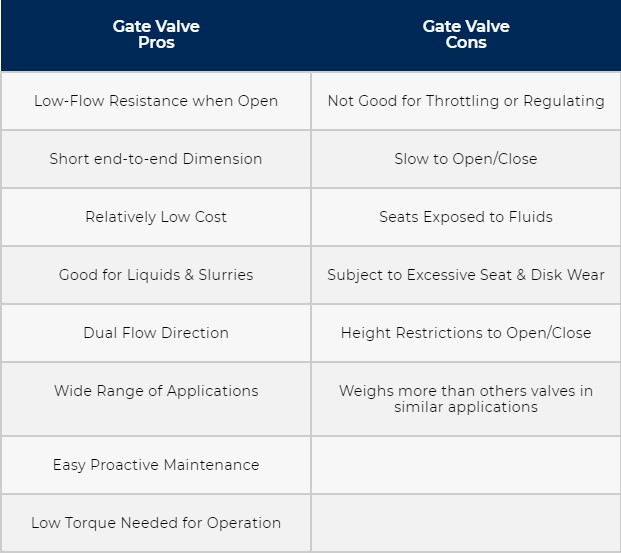 Common Gate Valve Choices
Of course, the gate valve can only be considered a reliable choice for your application when the correct features and materials are selected. There are several types of gate valves available, three common choices being Parallel-Slide, Wedge Style, and Knife Gates:
Parallel-Slide Gate Valves have two disks that form the gate. When closed they are forced out against seats to form a tight seal. Parallel Slide Gate Valves are typically used in high-temperature, high-pressure applications.
Wedge Style Gate Valves use a wedge-shaped disk that allows for a tight shut-off. The Wedge can be solid, split, or flexible to meet your application needs. Wedge Style Gate Valves are ubiquitous in industrial applications.
Knife Gate Valves have a single sliding gate with a beveled edge like a knife. Knife Gates are typically used for slurries, solids, and waterworks applications.
Stems
Gate valves can have either a rising stem or a non-rising stem. The stem's function is to move the gate in and out of the flow path:
In a Rising Stem Gate Valve, the stem will rise out of the valve giving a clear indication that the valve is open or closed. The external threads allow for ease of lubrication but consideration must also be taken to protect the exposed threads.
A Non-Rising Stem Gate Valve will thread the wedge up onto the stem. This is a great option when overhead space is limited. With this design, it is not possible to determine if the gate is in the open or closed position.


Seats
Choosing the right seat material in any valve can make all the difference:
A Metal Seated Gate Valve has an angular depression in the base where the wedge seats metal-to-metal for a tight closure.
Resilient Seated Gate Valves have a flat bottom within the valve cavity that allows fluid to pass through without disruption and an elastomer material to seat against.
Bonnets
The bonnet is a cover that fastens to the valve body to complete the pressure seal. In some cases, a manufacturer will offer an integral or bonnet-less option in which the bonnet and body are one piece. Standard Bonnets for gate valves have various designs to satisfy different application needs including,  Union, Bolted, Welded, Pressure-Seal, and Bellows-Sealed:
Union Bonnets are common with smaller gate valves, particularly sizes 2-in and down. The Bonnet consists of threads on the body side and a nut that is threaded on to seal the valve.
Bolted Bonnets are commonly used for industrial applications. The valve bonnet is bolted like a flange to the body of the valve with a gasket seal.
Welded Bonnet is another common design for industrial applications but without the weight of the bolted bonnet. However, the welded bonnet negates the ability to repair the valve.
Pressure-Seal Bonnets are used in high-pressure, high-temperature applications to seal the body cavity and stem. As the pressure in the body rises, the pressure seal disc load increases and seals the gasket for a lower potential of leakage.
Bellows-Sealed Bonnets are used in applications that have critical leak prevention requirements. A bellows is welded to both the valve bonnet and the valve stem causing the convolutions on the bellows to expand and compress with the movement of the stem.
Summary
With its relatively simple design, minimal fluid resistance, and energy-efficient open/close functionality, it is no wonder the gate valve is a popular choice.
Standard of New England is standing by, ready to help with your valve selection. Call our knowledgeable sales team today to review your options and request a quote.