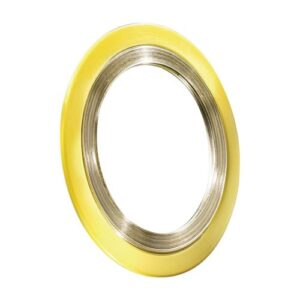 We offer multiple reputable lines of gaskets to meet B16.20 and other industry standards.
Non-Metallic: Typically made from composite sheet material used with flat-face and raised-face flanges. Non-metallic gaskets are manufactured from Arimid Fiber, Glass Fiber, Elastomer, Teflon (PTFE), Graphite, and more.
Spiral Wound: For use with flanged joints, heat exchangers, manway, and other high-temperature/high-pressure applications.
Ring Type Joint (RTJ): Available in oval and octagonal configurations for use in high-temperature/high-pressure applications in a wide range of materials.
Please contact a member of our team who can assist you in selecting the proper materials for your application.
Standard of New England is proud to be an independent supplier of pipe, valves, fittings, flanges, expansion joints, and specialty products. The business has been owned and operated by a U.S. military veteran and his wife since 1996. We are an Independent Supplier, therefore the needs and concerns of our customers and employees always come first! For example, we offer Project Consultations with complex orders. Our Order Management System gives you one professional and knowledgeable point-person who manages your order from beginning to end. Need documentation? Just let us know. Whatever you need, your point-person will know how to help. And of course, communication is key! That's why there are no automated phone systems when you call us. Providing one-on-one communication with real people is important to us because we understand your time is valuable. Finally, we are always learning new things, updating our processes, and sharing what we know.
We supply many products to a variety of industries such as building, infrastructure, manufacturing, marine, oil, gas & chemical, power & process, waterworks, and more.
Contact us today for your complex projects and your everyday needs. We are here to help, answer your questions, and get you the material you need. Does your project have a lot of technical requirements? If you would like a little more guidance right from the start, request a project consultation by filling out this form or letting one of our salespeople know. Learn more about Standard of New England by visiting our about page. 
Is a Project Consultation right for your job? A Project Consultation with Standard of New England gives you the full benefits of a knowledgeable partner on your team for those complex and technical projects. Request a project consultation today.
We supply general and mechanical construction companies with projects such as universities, libraries, and local, state, and federal municipal buildings. Check out our gallery to see more photos of our various building projects.
We supply engineered products for our nation's bridges and other infrastructure, which supports the creation and maintenance of the transportation systems that deliver our energy resources.
Aerospace (AS 9100 supplier), biotechnology, chemical plants, food and beverage companies, large equipment manufacturers, paper mills, and textile mills are all within our wheelhouse of expertise as a supplier of quality pipe, valves, fittings, expansion joints, and accompanying hardware.
Finding high-quality domestic and compliant material can be a challenge, but we are committed to providing solutions for both standard and non-standard products to the marine industry. We also work with and support specialized dive divisions of major construction and engineering firms.
From oil pipeline systems to process refineries, we are experienced in providing high quality standard and customized solutions in various alloys and metals to support the highly combustible and corrosive environments of the oil, gas, and chemical industries.
We supply many projects in the power generation industry from nuclear power plants to renewable energy sources. We represent the only expansion joint manufacturer in the U.S. with a nuclear power stamp.
We support the process piping systems in both water and wastewater treatment facilities supplying valves, pipe, expansion joints, and appurtenances.