Metal and Fabric Expansion Joints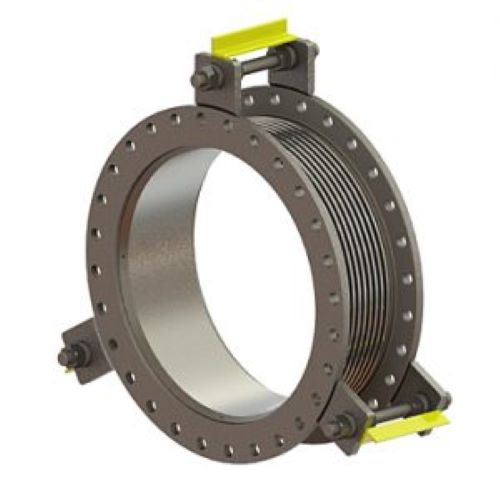 As the New England Representative to the industry leader of Metal and Fabric Expansion Joints, we offer:
Externally Pressurized Expansion Joints to accommodate for large amounts of axial movement at high pressures due to thermal expansion, but without the risk of squirm due to the heavy outer shell.
Mid-Corr Expansion Joints for free flexing and controlled flexing to absorb large pipe movements.
Unrestrained Expansion Joints for axial extension, axial compression, lateral offset, and angular movement.
Single Tied Expansion Joints for a fixed overall length.
Universal Expansion Joints consisting of two bellows separated by a pipe spool for containing pressure thrust (either tied or untied).
Hinged Expansion Joints allowing angular movement on a single plane while accommodating for pressure thrust.
Universal Hinged Expansion Joints having two bellows separated by a pipe spool, allowing for large lateral movements in the same plane while containing pressure thrust.
Gimbaled Expansion Joints for angular movements in any plane while resisting pressure thrust.
Universal Gimbaled Expansion Joints having two bellows separated by pipe spool, for large lateral movement and angular movement in any plane while resisting pressure thrust.
Pressure Balanced Expansion Joints to eliminate pressure thrust while accommodating axial compression, axial extension, lateral movement as well as angular movement.
Pressure Balanced Elbows with single or double bellows for accepting axial compression, axial extension, lateral movement, and limited angular motion.
Catofin Expansion Joints for fluid catalytic cracking operate at very high pressures and temperatures with the need to accommodate large thermal movements as well as compensate for the introduction of catalyst.
Fabric Expansion Joints for lateral movement, axial compression, axial extension, torsional and angular deflection. Round corners, single miter, double miter, and camera corners available.
Application Accessories: Standard and Heavy-Duty Liners, Tie-Rods, Covers, Purge Connectors, Test Kits, Leak Indicators, Splice Kits, Expansion Compensators, Pressure Relief / Safety Valve Connectors, Flexible Metal Pump Connectors, and X-Press Units.
Application Services: Site Surveys, Field Services, Installation, Repairs, and Nuclear Certifications.
Expansion Joints are engineered per application in a wide range of materials and end connections. Please contact us today for more information.
Standard of New England is proud to be an independent supplier of pipe, valves, fittings, flanges, expansion joints, and specialty products. The business has been owned and operated by a U.S. military veteran and his wife since 1996. We are an Independent Supplier, therefore the needs and concerns of our customers and employees always come first! For example, we offer Project Consultations with complex orders. Our Order Management System gives you one professional and knowledgeable point-person who manages your order from beginning to end. Need documentation? Just let us know. Whatever you need, your point-person will know how to help. And of course, communication is key! That's why there are no automated phone systems when you call us. Providing one-on-one communication with real people is important to us because we understand your time is valuable. Finally, we are always learning new things, updating our processes, and sharing what we know.