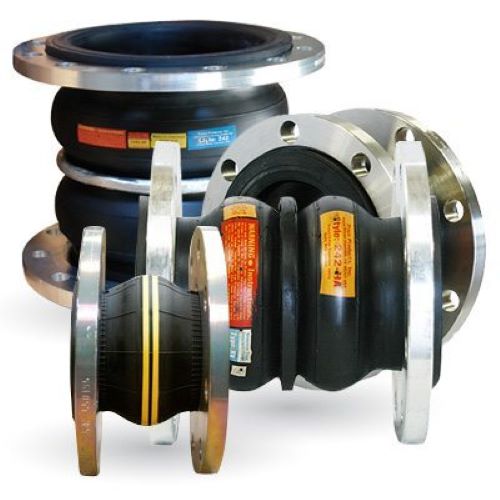 As the New England Representatives to an industry leader in Rubber Expansion Joints we are able to offer:
Spool-Type single, double and triple arch rubber expansion joints for use in many industrial applications to absorb pipe movement, pipe stress, reduce noise, isolate vibration, compensate for misalignment, eliminate electrolysis, and protect against start-up surges.
Molded Spherical single and double sphere expansion joints are stronger then your typical spool-type joint due to the "sphere" design which distributes the forces more evenly. This design also helps to reduces turbulence and sediment build-up.
Eccentric and Concentric rubber expansion joints are available in a wide range of size configurations for reducing pipe size.
PTFE and FEP Lined rubber expansion joints are available for many industrial applications such as Chemical and Petrochemical Processing Facilities and Highly Corrosive Industrial Applications.
Molded PTFE expansion joints for use in many chemical, petrochemical and industrial piping applications for installations between anchor point or next to mechanical equipment.
Non-Metallic Flexible Fan Connectors for use with inlet and outlet industrial fans. Available in U-Type, Arch-Type, W-Type, Navy Fans and more.
Other Options: Filled arch options available for sludge / slurry applications. Limit rods, Control Rods, and Compression Sleeves available for assist with controlling movement.
Also Available: Flanged Rubber Pipe Connectors, Rubber Sleeve Connectors, Penetration Seals, and Rubber Check Valves.
Expansion Joints are engineered per application in a wide range of materials and designs. Please contact us today for more information.
Metal Braided Hoses and Flex Connectors:
Many standard sizes are available for immediate delivery with flanged or threaded ends. Custom assemblies can be made from a wide variety of materials to suit almost any application. Other options include: Smooth Bore PTFE, High-pressure End Connections, Jacketing, Tracing, Lining, and Exterior Guard.

Standard of New England is proud to be an independent supplier of pipe, valves, fittings, flanges, expansion joints, and specialty products. The business has been owned and operated by a U.S. military veteran and his wife since 1996. We are an Independent Supplier, therefore the needs and concerns of our customers and employees always come first! For example, we offer Project Consultations with complex orders. Our Order Management System gives you one professional and knowledgeable point-person who manages your order from beginning to end. Need documentation? Just let us know. Whatever you need, your point-person will know how to help. And of course, communication is key! That's why there are no automated phone systems when you call us. Providing one-on-one communication with real people is important to us because we understand your time is valuable. Finally, we are always learning new things, updating our processes, and sharing what we know.
We supply many products to a variety of industries such as building, infrastructure, manufacturing, marine, oil, gas & chemical, power & process, waterworks, and more.