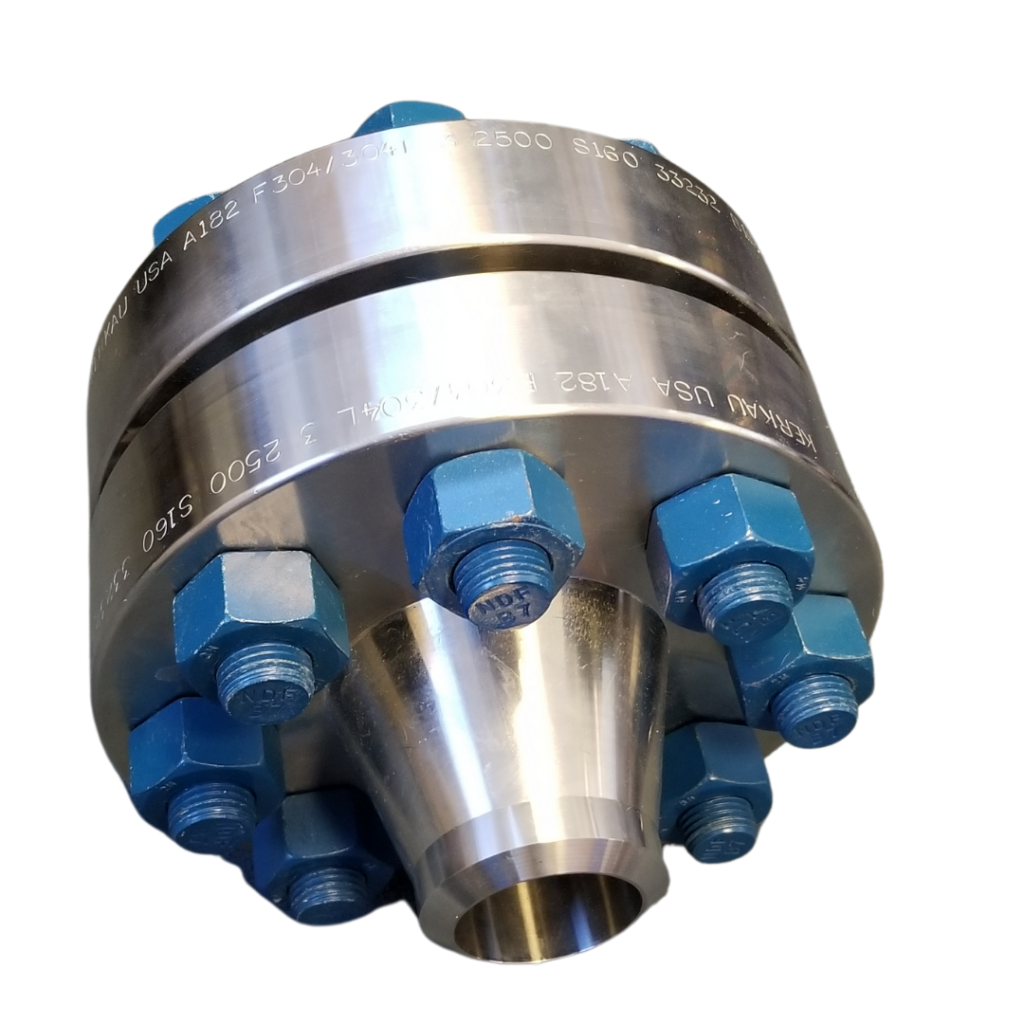 • Weld Neck
• Slip on
• Blind
• Threaded
• Socket Weld
• Lap Joint
• Ring Type Joint (RTJ)
• Long Neck
• Heavy Barrel
• Equal Barrel
• Orifice
• Bleed rings
• Studding Outlets (Pads)
• Paddle Blind
• Spectacle Blind
• Line Blinds
• Fry Pan
• Spacers
• AWWA
• Plate & Sil-Braze
ASME B16.5 Flanges: 1/2-in thru 24-in in cl 150-cl 2500 in a wide variety of metals.
ASME B16.47 Flanges: 26-in thru 60-in available in series A & B, cl 75 thru cl 900 in a wide variety of metals.
ANSI B16.1 Industry Standard Flanges: cl 125 thru cl 250 in a wide variety of metals.
B16.36 Orifice Set: 1-in thru 24-in cl 300 thru cl 2500 with or without hardware in a wide variety of metals.
Metric and British Sizes: DIN, JIS, NS, AS, and UNI in a wide variety of metals.
Standard of New England is proud to be an independent supplier of pipe, valves, fittings, flanges, expansion joints, and specialty products. The business has been owned and operated by a U.S. military veteran and his wife since 1996. We are an Independent Supplier, therefore the needs and concerns of our customers and employees always come first! For example, we offer Project Consultations with complex orders. Our Order Management System gives you one professional and knowledgeable point-person who manages your order from beginning to end. Need documentation? Just let us know. Whatever you need, your point-person will know how to help. And of course, communication is key! That's why there are no automated phone systems when you call us. Providing one-on-one communication with real people is important to us because we understand your time is valuable. Finally, we are always learning new things, updating our processes, and sharing what we know.
When talking about carbon steel pipe and pipe fittings it is often assumed that Schedule 40 and standard weight are the same thing; likewise, that schedule 80 and extra heavy are the same thing. These assumptions, however, are incorrect and can lead to the wrong material being installed at the jobsite.
Take a look at the wall thicknesses (in blue) on our pipe chart. Look closely at the two columns for schedule 40 and standard weight. Up through a 10-inch pipe size the wall thicknesses are the same, and the terms schedule 40 and standard weight are very often used interchangeably. But once we start dealing with pipe and fitting sizes larger than 10-inch you can see that the wall thicknesses diverge. The wall thickness of the standard weight pipe plateaus, remaining the same at the 12-inch size, while the wall thickness of the schedule 40 pipe continues to increase with pipe size.