How to Read the Standard of New England Pipe Chart
By: John Brady
October 2018
Standard of New England's Pipe Chart describes the physical dimensions and weight of standardized pipe. Pipe is manufactured  according to these standardized physical characteristics.
When looking at our Pipe Chart, choose either the Pipe Size or O.D. size from the two far-left columns as your starting point.  Then choose the schedule from the top row. Find where your pipe size and schedule intersect. You will see that each box has two numbers describing your pipe selection. The top number, in blue, is the wall thickness.  The black number below is the weight in pounds per foot of pipe.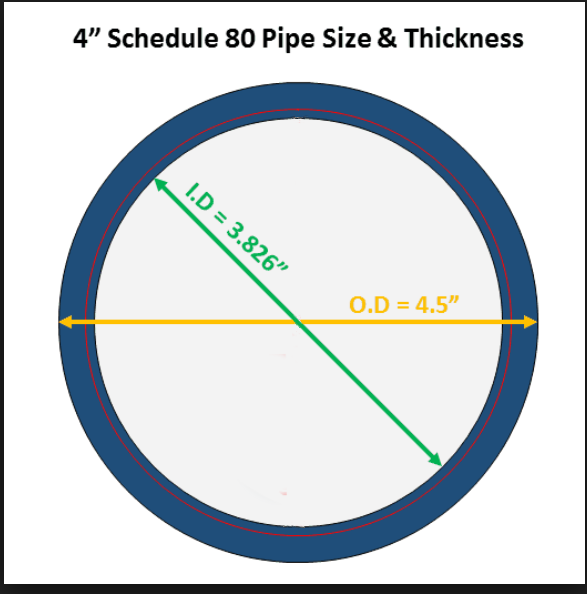 Nominal Pipe Size
NPS (Nominal Pipe Size), listed in the first column of our Pipe Chart, identifies the nominal diameter of the pipe which lies between the inside and outside diameters.   For example, 4″ Sch 80 pipe has an O.D. (outside diameter) of 4.50" and an I.D. (inside diameter) of 3.826″.
Pipe Schedule
A pipe's schedule identifies its wall thickness and is trickier than you think to get right.  For example, the schedules for 40 and STD pipe from 1/8" through 10″ are identical.  Above 10", however, the schedules of 40 or STD pipe vary and must be specified to clarify the required wall thickness. The same is true for schedules 80 and XH which must be clarified above 8".
Pipe Weight
The weights given on our pipe chart are based on carbon steel pipe but can vary due to many factors including manufacturing tolerances and other allowable factors such as alloy.  For most situations this weight is an acceptable estimate for estimating freight costs.
Terms often used when talking about pipe:


ANSI – American National Standards Institute
ASME – American Society of Mechanical Engineers
API – American Petroleum Institute
NPS – Nominal Pipe Size
NPT – National Pipe Thread
OD – Outside Diameter
STD – Standard
XH or XS – Extra Heavy or Extra Strong
XXH or XXS – Double Extra Heavy or double Extra Strong
ASME/ANSI B 36.10 – Welded and Seamless Wrought Steel Pipe
ASME/ANSI B36.19 – Stainless Steel Pipe
Standard of New England, LLC
Standard of New England is an independent wholesale distributor, in operation since 1996. We are small enough to be responsive to our customers' needs and big enough to deliver what our customers want when they want it.  Our specialty is in industrial piping products, but we can also provide much more.  We are proud to have local, national, and international customers who come back to us time and time again because of our industrial knowledge and personal customer service.  
We offer a wide range of products including: Pipe, Valves, Fittings, Flanges, Metal & Fabric Expansion Joints, Industrial Dampers, Rubber Expansion Joints, Metal Flex Connectors, Engineered Plastics, Polypropylene, Fusion Tools, Hardware, Gaskets and More. These products are available in a range of Metals & Materials to meet all your industrial application needs.
Contact us today!  
WHILE OTHERS STRIVE TO BE THE BIGGEST, WE STRIVE TO BE THE BEST – STANDARD OF NEW ENGLAND, LLC™